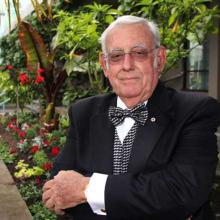 Alex Campbell
Honorary Degree
Fall 2000 Convocation
Alex A. Campbell is president and general manager of Thrifty Foods, a Vancouver Island business success story he helped start in 1977 out of a small store in downtown Victoria.
The chain grew to become one of Canada's most respected providers of high-quality food products and for supporting smaller local brands which helped nurture a local grocery business that is known across British Columbia. He is known for building his company while always treating his employees, local producers and manufactures well. Leading by example and being committed to giving back to the community, he has continuously and generously supported local food banks, elementary and high school students, children with disabilities, the arts and our environment.
Today the company he started has more than 2,400 employees and a market share of 40 per cent of all the grocery stores on Vancouver Island a sign of the benefits of promoting your community and treating your employees well.