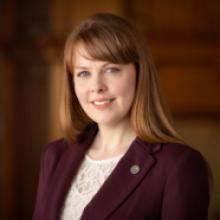 Andrea Boyes
Advancement Officer
Advancement
Andrea Boyes joined the Advancement team in 2017 after completing her MA in Professional Communication in 2013 and working with the Student Recruitment team for five years.
Andrea is a long-time volunteer for Special Olympics and is happy to have found a position where her passion for philanthropy and close connection to 企鹅电竞查询v6.9 安卓版 University collide!
Andrea supports the development and implementation of a variety of engagement strategies, as well as strategic relationship co-ordination, stewardship and more. She also works on opportunities to further develop funding opportunities for student awards, endowments, bursaries and other projects and events.
In her spare time Andrea can be found working to bring back the lost art of roller disco!
Contact me