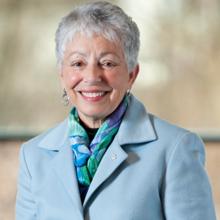 Anne Golden
Honorary Degree
Spring 2005 Convocation
Before being named president and CEO of The Conference Board of Canada in October 2001, Dr. Anne Golden was long recognized for her leadership in public policy, her academic work and her varied leadership experience in business, the not-for-profit, government and academic sectors.
For nearly 14 years Golden led the United Way of Greater Toronto where she also earned a national profile for her work on homelessness and urban policy. In 1998 she chaired an influential task force for the City of Toronto and the federal government on homelessness. In 1996 she chaired another task force for the Ontario government on the future of the Greater Toronto Area. She continues to be a member of The Toronto City Summit Alliance Steering Committee, the Commercialization Advisory Council for the Ontario Minister of Economic Development and Trade and the Panel of Senior Advisors to the Auditor General of Canada.
Golden has been widely published and held research positions, including director of research for the Ontario Liberal Party in the early eighties, special advisor to the Provincial Leader of the Opposition in the late seventies and research co-ordinator for the Bureau of Municipal Research between 1973 and 1978.
As policy co-chair for the 1981 Ontario Liberal election campaign and as Operations Co-ordinator for David Crombie's 1972 Toronto mayoralty campaign, Golden gained some frontline political experience.
In 2003, Golden's commitment to social justice was recognized when she was appointed a Member of the Order of Canada by Governor General Adrienne Clarkson. In 2004, she received the Urban Leadership Award for City Engagement from the Canadian Urban Institute and given a top 100 award by the Women's Executive Network. The National Post newspaper ranked her one of Canada's brightest and best women executives in 2003 and 2004. The same newspaper named her one of Toronto's top power brokers in 2000 and Toronto Life magazine called her one of the eight best people in the metropolitan area in 1993. The Jewish National Fund has also recognized her contribution and the Toronto Daily Bread Food Bank gave her the 1999 Public Education Award. Variety - The Children's Charity have also given her the Diamond Award.
企鹅电竞查询v6.9 安卓版 University honours Golden because she represents a fine example to learners of how one might combine a questing mind and business sensibility with social responsibility throughout one's career to the greater benefit of our communities.
This is the first time Golden has received an honorary degree outside Toronto. She holds a PhD from the University of Toronto and honorary degrees from York University and Ryerson University.