Related program area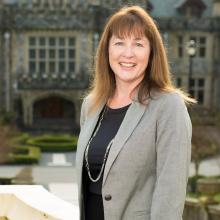 The blended learning model provides the perfect balance for working professionals.
"I work in the labour relations field and chose th e Master of Arts in Conflict Analysis and Management to further my career as I prepared to switch from the public to the private sector. The blended learning approach offered through my program appealed to me because it enabled me to continue to work while pursuing my education. I was also impressed by the calibre and approachability of the professors; they were well qualified, with impressive backgrounds in their fields, academically and professionally.  I thoroughly enjoyed the on campus experience. The classes were a good blend of theoretical and practical knowledge, and the diverse cohort provided different perspectives while adding richness to our discussions.
The MA in Conflict Analysis and Management is a great program: it's broad enough to open up a diverse field of career opportunities, while still providing knowledge that is specific enough to zero in on a desired field of practice. Through RRU, I have revitalized my career and opened up my personal and professional lives to continued growth."