Featured
Share online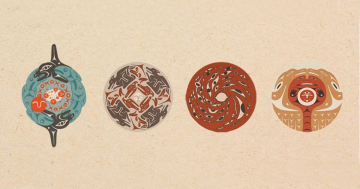 Artwork by 

Eliot White-Hill, Kwulasultun

, created for the In Plain Sight review in 2020
The Decolonizing Leadership Webinar Series explores important leadership topics from Indigenous perspectives. The series seeks to deepen relationships with Indigenous knowledge and ways of being and doing and encourage all leaders to consider how we can transform our leadership practices.   
Please register in advance if you would like to meet the speakers for a virtual tea and conversation.
Episode 1 - Exploring the In Plain Sight report and the Implications for Health Leadership with Harmony Johnson
Harmony will reflect on the In Plain Sight Report: Addressing Indigenous-specific Racism and Discrimination in B.C. Health Care nearly two years since its release. She will explore the key meta-findings from the report and consider the implications for human beings and leaders working in the health sector. Although the In Plain Sight Report focuses on the B.C. health care system, the lessons shared are relevant and applicable for all leaders working in Canada. This webinar is hosted by the Master of Arts in Leadership, Health Specialization. 
Date: Thursday, May 26, 2022
Time: 12:30 pm– 1:45 pm PDT
Watch the recording here
Episode 2- Relational Systems Thinking with Melanie Goodchild  
Over the past few decades, Systems Theory, Systems Thinking, Systems Change, and so on have become popular topics in the field of Leadership Studies. However, many of the underlying principles derived from ancient wisdom from Indigenous cultures worldwide. Drawing upon her 2021  article , Relational Systems Thinking: That's how change is going to come, from our Earth Mother, as well as her doctoral work engaging in conversations with Haudenosaunee Elders and Western systems thinkers, Melanie identifies cross-cultural dialogues as a doorway to healing, transformation, and spiritual understanding. 
Date: Tuesday, May 31, 2022 
Time: 12:30 pm – 1:45 pm PDT 
Watch the recording here
Episode 3 - A Trauma-Informed Approach to Cultural Safety with Harley Eagle  
This webinar will explore Indigenous Cultural Safety (ICS) through a trauma-informed lens. Harley will offer insights into: 
Foundational understandings of Indigenous Cultural Safety would include a description of a cultural safety learning journey.

Foundational understanding of the colonial history of Canada from Indigenous perspectives. 

Foundational understandings of Systemic Racism and its connection to colonization. 

Understanding of and actions to address systemic racism at the personal, intra-personal, classroom, and institutional levels 
This webinar is influenced by several discussions between Harley and the School of Leadership Studies, as well as a recent training he conducted in the winter of 2021. 
Date : Monday, June 20, 2022 
Time: 9:30 am - 11:00 am PDT
Watch the recording here
Even if you cannot attend live, following the event, a recording will be shared with all registered participants.
This series is funded by the Exploring New Ways Funding stream which supports curriculum innovations to increase Indigeneity and understanding. The series is brought to you by the School of Leadership Studies .