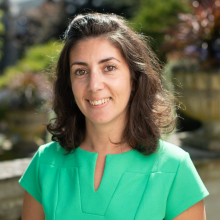 Dr. Stéphanie Vieille is passionate about empowering learners to bring about the change they want to see in the world. Her research interests include intercultural understanding, transitional justice, post-colonial theory, change management, stakeholder engagement, and the promotion of social and environmental justice. Her SSHRC-funded doctoral research examined customary and Indigenous approaches and mechanisms of justice. It was used by the United Nations Human Rights Council's work for the promotion and protection of the rights of Indigenous Peoples.
Experience
Dr. Vieille has more than 10 years of university teaching experience. She has conducted research in various contexts and regions of the world including Europe, sub-Sahara Africa, the South Pacific and Canada. She has practical experience working with municipal, provincial and federal government and not-for-profit organizations.
She was a research fellow with the Centre for Transitional Justice and Post-Conflict Reconstruction at Western University. She was awarded a SSHRC postdoctoral award in 2014.
Education
2012
PhD in Political Science
Western University
2007
Master of Arts in in Political Science
Simon Fraser University
2004
Bachelor of Arts (Hons.) in Politics and International Relations
University of Kent at Canterbury
2019
Graduate Certificate in Program Evaluation
University of Victoria