Registration is now open! 
We are thrilled to welcome you back to campus for this year's celebration September 9 to 11, 2022.  Join all the activities for the weekend.   
Register today !  Registration will remain open until August 26. 
Homecoming celebrations salute class reunions, forge friendships and pay homage to days past.
It reunites alumni, ex-cadets, faculty & staff from RR Naval, Tri-Services & Military Colleges to share memories and good times.
Agenda
Thursday, September 8
Virtual Meet & Greet - 3:00 p.m.
We recognize that not everyone can participate in person and have added a virtual event Thursday September 8th to reconnect with your fellow classmates. If you are interested, please send an email to alumni.relations@royalroads to sign up and we can provide the Zoom details!
Friday, September 9
Welcome Reception 4:00 p.m. – 6:00 p.m. at Quarterdeck, Grant Building
Event sponsored by Vaughan Bevan Wealth Management Group

Enjoy a business casual reception and reacquaint yourself with old friends, and perhaps make some new ones! We look forward to welcoming you back to campus to celebrate your reunion. Cash bar and refreshments. Guests are welcome with registration.
Saturday, September 10
Have you registered for our 'Then and Now' tour? Departing at 11:00 a.m. in front of Hatley Castle, we will share and showcase some of the favourite locations on campus and explain their current uses here at RRU. Locations include, Grant block, Sherman Jen & our newly renovated Dogwood Auditorium. Sign up today to reserve your spot!
Saturday, September 10
Homecoming Dinner 5:30 p.m. to 9:30 p.m. 
Cocktail hour: 5:30 p.m. – 6:30 p.m.
Dinner served: 6:30 p.m.
Cost: $ 95.00 (includes a buffet dinner and glass of wine). Dietary restrictions? Please email alumni.relations@royalroads.ca with your requirements.   

Dress to impress and enjoy reconnecting further with a charming dinner. Bring your spouse or guest for an evening designed to provide you with not only an opportunity to connect, but to create new memories on campus. 
Sunday, September 11
Mastsite and Farewell Ceremony & Quarterdeck Gathering
Mast Ceremony: Sunday, September 11, 10:30 a.m. to 12:30 p.m. (No registration required)
Quarterdeck Gathering: Sunday, September 11, 12:30 p.m. to 2:30 p.m. (Registration required)
Cost: $25.00
Event supported by Vancouver Island Ex-Cadet Club
Respecting the traditions of our military heritage, we welcome all alumni and family to join in front of the former commandant's house for a dedication to our ex-cadets and their 企鹅电竞查询v6.9 安卓版 journey. Following this dedication, attendees will be piped back to campus core to participate in the ceremonial circle walk from the front of Hatley Castle past the Grand Block and back. 
Should you be interested in staying for light refreshments, there will be a final opportunity to congregate, share, and reminisce over light refreshments with coffee & tea. This gathering will be offered in the Quarterdeck directly following the formal farewell ceremony and toast. Registration required.
Paver stone project:
Have you ordered your Paver stone yet?  Don't worry there is still time but this year's orders must be in by July 31.  For more information and to sign up, please visit the Paver stone project .
We look forward to seeing you in September!
2021 Cadet Slideshow and Historical Videos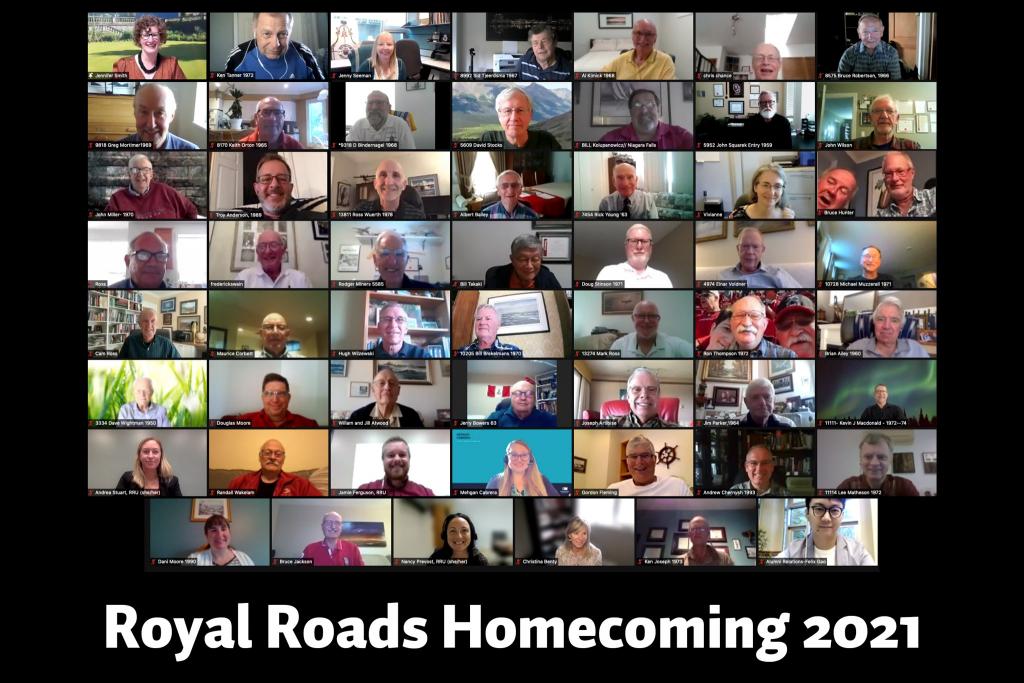 Virtual Homecoming Participants 2021