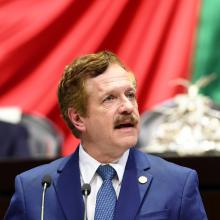 Juan Carlos Romero Hicks
Honorary Degree
Fall 2018 Convocation
Mexican Congressman Juan Carlos Romero Hicks is a champion of higher education in Latin America and a leader of international educational cooperation.
 Born in the city and state of Guanajuato, Romero Hicks studied in Mexico and the United States. He returned to his home state to teach at the University of Guanajuato for almost 30 years. He was the university's secretary general in 1985 and its chancellor from 1991 to 1999, all while he continued to lecture and do research.
Romero Hicks has worked to create a vibrant and competitive post-secondary education system in Mexico throughout his academic career. He led efforts to reform universities during the 1990s, including as president of the National Association of Universities and Education Institutions, inspiring him to co-author a book on the subject. He has served as director of the Mexican National Science and Technology Council and as vice-president of the National Innovation Council.
Romero Hicks has served as president and honorary president of the International Organization for Higher Education, president of the Consortium for North American Higher Education Collaboration and president of the Amundsen Institute of US-Mexico Studies.
He was elected governor of the state of Guanajuato in 2000 and served in that role until 2006. From 2011 to 2017, he was the federal senator for Guanajuato. As president of the Senate Education Committee, he led Mexico's constitutional reform of education.
Romero Hicks was elected to the Chamber of Deputies of the Congress of Mexico, in the fourth district (Guanajuato), in July 2018. He is the minority leader in the Chamber of Deputies for the National Action Party.
Throughout his career, Romero Hicks has defended human rights. He served on Guanajuato's State Commission for Human Rights for four years and has advocated on behalf of Mexican migrants in the United States and elsewhere.
Romero Hicks holds a Master of Business Administration (1981) and a Master of Science in Psychology (1979) from Southern Oregon State College, and a Bachelor of Arts in Industrial Relations from the University of Guanajuato (1977).