Featured
Share online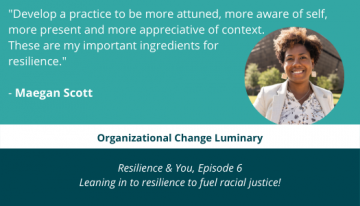 Resilience & You, Episode 6: Leaning in to resilience to fuel racial justice  with guest Maegan Scott is now available.
Monday was a great day to explore Resilience & You with Maegan Scott, founder of Wayfinding partners!
Our conversation travelled across the emotional labour associated with racial justice work, the importance of nourishing yourself from this work in order to answer the call to "Be" in this work, the healing power of Reiki, and the value of choosing JOY!
For leaders just getting started in racial equity work, Maegan shared a warm welcome to the work, and full permission to not have all the answers, particularly when people are starting out.
Wayfinding Partners help to find the wherewithal, the resilience, the inner faculties we have as leaders to be agents of change in racial equity work. Be sure to  listen  to episode 6 of Resilience & You!
If you felt called to this work after listening in to this powerful conversation with the phenomenal racial justice, liberation warrior, organization development practitioner and energy healer, you can connect with Maegan at  maegan@wayfindingpartners.com  and you can connect with Wayfinding Partners on Linkedin!
Tune in weekly, Mondays at 1pm EST/10am PST for more rich conversations, until then, consider what wise action you can take today to cultivate your resilience!