Featured
Share online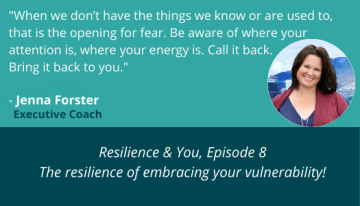 "Be aware of where your attention is, where your energy is. Call it back. Bring it back to you." - Jenna Forster
Monday was a great day to explore Resilience & You. My special guest Jenna Forster shared her resilience story of navigating lyme disease.
Her story and learning shares some parallels with our global experience as we have worked our way through change events, which may have included a pause, brought on by COVID 19.
As she began to prioritize what really mattered, she became the CEO of her own wellbeing and experienced the power of community support which she had so generously contributed to for many years.
We also talked about the importance of calling yourself back to yourself.
Listen  in to episode 8 of Resilience & You, and consider how you might call yourself home today as an action to support your resilience.