Featured
Share online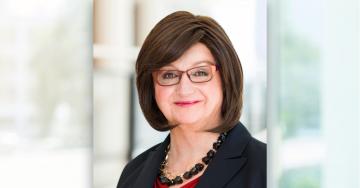 The School of Leadership Studies would like to extend our heartfelt congratulations to Christina Marie Comeau on the completion of a Master's Thesis titled, Flying the Dragon: Elusive Pathways to Sustainable Development
This thesis is available through RRU's library .
We asked Christina a few questions about this research and this is what she said:
What are some key takeaways from your thesis that would be helpful for other leaders?
In hindsight, the thesis was a marathon. I found that my passion to find better answers was the fuel that carried me through the long and challenging journey. It wasn't easy.
For one, I had to approach several research partners before I found the perfect match. At first that was discouraging but eventually I found a partner fully committed to the project. The strength of our collaboration helped pull me through the hard times.
Tenacity and resilience were invaluable.
How is the organization moving change forward based on your work?
I structured my research questions so the project would benefit my research partner as well as the other collaborators I worked with.
My partner organization's board of directors is considering the thesis recommendations.  Although it will take some time to complete their internal planning, my thesis will help inform the future programs they offer to sustainable development practitioners.
In addition, the research participants, told me they found it useful to discuss how complexity science could benefit their work in sustainable development and other social challenges. It pleased me that each participant found something useful from the project.
What surprised you about your experience of the thesis process?
In my thesis I reflect on leadership as a practice in contrast to a role, a competency, or a form of power. The months of looking for answers and needing to begin again and again, shifted my mindset from one of accomplishing milestones to one of being constantly present with the work. The quality of the work improved when I sat with it, rather than struggled to finish it.
I began to reframe my understanding of leadership as a matrix of shifting relationships. Not only leader-follower-organizational relationships but all relationships in all facets of society. I was surprised to see that when I drifted away from continuously practicing how to lead through relationships with the work, participants, my partner, and Inquiry Team, the quality of what was being achieved suffered. In the end I leant that being continuously engaged in the moment, is a good way to lead in complexity.
How are you applying lessons learned from your whole MA in Leadership journey?
I am grateful for the introduction to Indigenous knowledge and ways of knowing that were integral to my learning at 企鹅电竞查询v6.9 安卓版. As a white settler, the gift of Two-Eyed Seeing is a powerful teaching—generously offered by Indigenous people to all beings—which I now use to look outside the usual boundaries. Two-Eyed Seeing is a worldview that will inform my work with the complex problems at the centre of my research and future career.
Thanks to the mentorship of my academic instructors and my supervisor Dr. Alice MacGillivray I am embarking on doctoral studies in complex systems and particularly the investigation of new pathways to addressing the wicked problems that threaten our future. The MA in Leadership program is what made this new opportunity possible.