Featured
Share online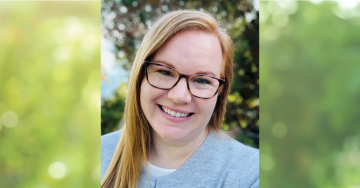 The School of Leadership Studies would like to extend our heartfelt congratulations to Laurie Barnas on the completion of a Master's Thesis titled, Student-centred services: designing a first-year experience integrated framework for 企鹅电竞查询v6.9 安卓版 University's challenge-based learning program.
This thesis is available through RRU's library .
We asked Laurie a few questions about this research and this is what she said:
What are some key takeaways from your thesis that would be helpful for other leaders?
Be creative with your research and get comfortable with the uncomfortable. Take risks, try something new, and trust your efforts will never fail you.
Adopt a creative and persevering mindset. It will sustain your curiosity because your unique research project is an opportunity in disguise. You will learn the most from the tensions and challenges, so stay present and reflect deeply.
Bring your heart into your work and connect to what inspires you along the way. Expand your scope to discover new passions, engage your colleagues, and empower yourself to see the world differently.
How is the organization moving change forward based on your work?
My project sponsor, Dr. Roberta Mason, AVP Student and Academic Services at RRU, enthusiastically received my research and is excited to consider an integrated approach to student services. My research helps RRU prepare for expanded undergraduate programming at the proposed West Shore campus that adopts a challenge-based learning model.
There are many layers to the opportunities presented for the organization to consider. For example, the integrated framework provides a structure that may help to sustain momentum for collaboration. In addition, the concepts of first-year experience transition pedagogy align with program and service planning. Finally, the associated principles, processes, and practices offer RRU leaders an opportunity to construct a supportive and empowering student experience.
Dr. Mason will be engaging an expanded group of stakeholders to seek their input and refine visioning soon. The research acts as a catalyst for RRU to amplify its unique position in the higher education landscape.
What surprised you about your experience of the thesis process?
Pursuing a thesis allowed me to experience profound and transformational learning. As I reconnected with my passion for human development and learning, I was surprised to discover the many parallels between my research on transition pedagogy to the experience of completing a thesis. Deep learning can occur at any stage of life, and it has its own timeline. The open-ended structure of the thesis process offered me the latitude to explore these connections.
While the research was in service to others, I received a more precious gift. I experienced a sense of empowered freedom which was in service to myself. There is power and confidence in finding your voice and pursuing what inspires you.
How are you applying lessons learned from your whole MA-Leadership journey?
Personal transformation shifts how you see the world, and during my MA-Leadership journey, I've learned to trust myself and recognize that my values and interests will always serve me. Difficulties will transform themselves into opportunities by adopting an appreciative mindset. Learning is a social experience, and our relationships are rich with possibilities to bring awareness, creativity, and meaning to our lives. Applying these lessons is a life-long leadership practice.
I am so honored to have my thesis recommended by the external examiner to be awarded 'With Distinction'. Thank you to my committee supervisors, faculty members, project sponsor, colleagues, and husband for their continued support. In the future, I am keen to further disseminate my research in journal publications. I am also considering pursuing a Ph.D. as my love for learning has deepened and want to do it all over again!