Featured
Share online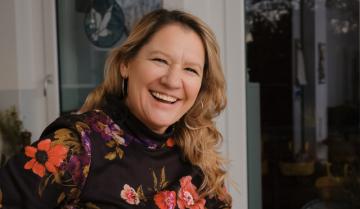 The School of Leadership Studies would like to extend our heartfelt congratulations to Lydia Su Nicholls-Gaertner on the completion of a Master's Thesis titled,   CILECT Community- An Action Research Engagement Approach to Weaving Collective Narratives into the Future.
This thesis is available through RRU's library . 
We asked Lydia Su a few questions about this research and this is what they said: 
What are some key takeaways from your thesis that would be helpful for other leaders?
Working consciously toward social change and a healthier planet has offered me a new sense of possibility and confidence in my abilities and those of my fellow humans. Being able to show up in this work with all my previous experience together with the new knowledge from the program has personally given me a new way to see the work I do. Also spending time with peers around the world has taught me how important values and trusting in processes are (both inside and outside) for real and lasting change.
How is the organization moving change forward based on your work?
Working together with my project sponsor, Prof. Bruce Sheridan, President of the Global Association of Film and Media Schools ( Centre International de Liaison des Ecoles de Cinéma et de Télévision -  CILECT ) has already allowed changes to be implemented within the organization. For example, the latest CILECT conference was opened up to allow more engagement from more staff members, a call has been made for more engagement through setting up theme based discussion groups, and more inquiry has begun around the meaning of social equity for the various regional membership groups. These examples relate back to three of the recommendations made in the thesis that will help CILECT further its adaptable leadership. 
What surprised you about your experience of the thesis process?
Practising leadership skills within a global association was challenging but also so rewarding. Through the work, I have deepened my connections to other film schools on five continents by engaging with their theoretical and practical scholars. But most surprising was becoming aware of an integral growing film and media educational movement which aligns with my core value of community. Also, important to mention in this context is how important my cohort was during the process (not only due to COVID-19); they became my faithful supporters who helped me find out that I actually love academic writing!
How are you applying lessons learned from your whole MA-Leadership journey?
One of the core lessons from the  MA in Leadership program journey that continues to shape my personal and professional life is the power of reflection. Through deepening my own reflective practice, in the group work I facilitate, and the curriculum for my film students, awareness continues to grow in me and in my work environment. It has given me the needed base of integrity to hold the creativity that is emerging offering a strong support and is actually healing. So, I have gained more trust for my own voice and for, you guessed it... the process.