Featured
Share online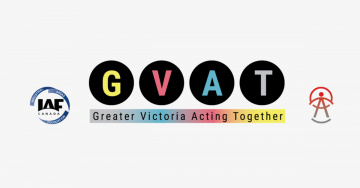 Partners in Leadership Education
The School of Leadership Studies wishes to thank  Greater Victoria Acting Together (GVAT)  for their engagement as our 2021-3 Summer cohort  Leadership Challenge ™ sponsoring organization.
The purpose of the Leadership Challenge™ is to create a mutually beneficial learning experience by bringing together a local organization and graduate students in the first year of their  Master of Arts in Leadership  (MAL). To create this learning experience, we are grateful to  Chet Phillips , Lead Organizer of GVAT, and to  Cortney Baldwin,  GVAT   Board Secretary. The School of Leadership Studies thanks Chet and Cortney for their generous commitment of time and voluntary engagement in this activity.
GVAT  is an alliance of 32 member organisations around Greater Victoria that come together to create positive systemic policy changes on challenging  issues  facing our communities. As the Victoria affiliate of the  Industrial Area Foundation , GVAT strives to organize communities, build networks of positive power, and facilitate collaboration between organizations with similar goals. GVAT and its organizational members strive to improve the world we live in and believe that such work starts with ourselves. Dedicated to building an inclusive community of learners and respectful changemakers, GVAT organizations foster diversity and inclusivity within our organization and community.
GVAT is organized into three Action Research Teams (ARTs) in the areas of affordable housing, mental health and addictions, and climate change, that  meet virtually  every other week. GVAT also has several subcommittees, including the Diversity and Inclusion Committee, currently organizing a regular Tuesday training online throughout the fall of 2021, on topics including unconscious and gender bias, climate justice, and trauma-informed facilitation, among  others .
This Leadership Challenge™ learning experience was a precious opportunity for learners, in seven teams, to apply their leadership learning to some of the challenges GVAT faces in its work in Greater Victoria as a community animateur and capacity builder. Each team listened and reflected on GVAT's successes, challenges, and opportunities and made connections between their readings and learning in the MAL program, and each students' own experiences with their leadership and professional practices. The student teams then created 12-minute presentations together with written reports to support the GVAT Board, which were then presented to Chet and Cortney. The team presentations to Chet and Cortney were made Thursday, July 22, and were well-received.
The Leadership Challenge™ is a cornerstone of the first residency of the  Master of Arts in Leadership  program. For more information or to inquire about becoming a potential sponsor, please contact us via  email .