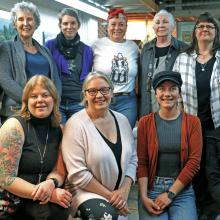 Victoria Women in Need Community Cooperative
Chancellor's Community Recognition Award
Spring 2019 Convocation
Victoria Women in Need Community Cooperative (WIN) serves women, trans, non-binary and Two-Spirit people along their journey from crisis to wellness and has been part of the Greater Victoria community for 28 years. WIN creates positive change in people's lives through programs that foster financial and personal self-sufficiency, employment, training and connection to community. WIN envisions a community where people can freely pursue a passionate and fulfilled life.
Established in 1991 by Charlotte Semple, Carole Fast and Michelle Young, WIN opened the first of its five resale shops that year and in 2005 formally became a non-profit community cooperative. Clare Yazganoglu has served as the cooperative's executive director since its inception. Members of the cooperative, made up of its employees and volunteers, lead its strategic direction.
WIN supports people as they find practical solutions in their journey to financial self-sufficiency. It helps them set up new homes after leaving abusive or unhealthy relationships, pursue education or training, start new businesses and overcome barriers to success. WIN's Transformations program also provides participants with the opportunity to learn communication skills and explore new choices.
At the core of WIN's philosophy is its dedication to sustainability and self-sufficiency. WIN relies on private contributions and donations of used items to sell at its resale shops rather than on government funding. The resale shops divert vast quantities of useful goods each year from the landfill into the homes and closets of Greater Victoria.
In 2012, WIN received an EcoStar Award in Waste Reduction from the Capital Regional District to honour the reduction of its carbon footprint by 32 per cent in a single year, a result of its innovative approach to waste reduction. WIN was honoured as the 2019 Non-Profit of the Year Award by the Greater Victoria Chamber of Commerce.